National Friendship Day 2020 is soon. There's nothing more important than friendship. These days, we selected 11 heartwarming cartoon pictures from Avatoon's users in "Avatoon – International Friendship Day Activity" and 5 lovely stories of best friends. We hope these cartoon pictures and short friendship stories can warm your heart.
Before we start, why not download Avatoon – Your avatar creator & emoji maker on Google Play and download Avatoon-Your avatar creator & emoji maker on App Store first? Download it now!
😻5 Heartwarming stories of best friends
Story 1."Ride or Die"
"I've known my best friend since middle school, and we're both in college now. We're from a boring area, but there are a bunch of woods and trails around us, and we would go walking a lot when we were teens. One day we were walking and we heard twigs cracking behind us that would stop whenever we turned around. Naturally, being 14, we were terrified we were about to be murdered. Instead of just freezing though, we decided we were going to go down swinging. We discreetly picked up the biggest sticks we could find, and, after quietly counting to three, we suddenly whipped around and ran down the path screaming. I don't know why but I screamed "Ride or Die!" as loud as I could, and my friend screamed like a high-pitched viking. Well, we ended up feeling pretty guilty because apparently it was just my friend's outside cat who had been following us for some reason! Still, that moment was weirdly powerful for me, because I realized I was willing to face any danger as long as I had my best friend with me."
Story 2. "Miss you"
"Always cherish your friends. I met Sara when I was about 12. I was sort of shy, but Sara totally absorbed me into her friend group like a mama goose. She took me under wing and I totally blossomed. We all used to joke that Sara was destined to have a million kids, because she was so caring. Unfortunately life had other plans. Sara suffered from Leukaemia when she was a kid, and even though she went into remission there was always the chance it could come back. When she was 17, after about a year of fighting, she passed away. Sometimes I get so angry. But then I think of her, and there were so many good memories. I had five years with one of the greatest people in the world, which makes me luckier than almost anyone. I have my friends because of her. I'm in pre-med because of her. I'm who I am because of her. I miss you Sara, thank you for everything."
Story 3. "Grandma's Best Friend"
"Friendship can sneak up on you. My mother's family comes from a small town in Europe, and my Grandma still lived there when I was little. She has since passed away, but I used to spend summers with her. Her best friend lived right next door. She was a short, loud, energetic woman, while my grandmother was tall and quiet. They seemed like opposites, but they would spend all day together, and wouldn't go anywhere without each other. The grocery-store, town meetings, restaurants, anywhere! I asked my grandma how they had become friends when they were so different. She told me when they were growing up they hated each other, they even got in fights at school! But one day, after both of their husbands had passed on, and their children had grown up and left, my grandmother looked up and realized that this woman she used to dislike was the person that my grandmother had the most in common with in the whole world. And that she had always been there. It was almost like they had been best friends long before they even knew it consciously. They've been inseparable ever since."
Story 4. "All my memories"
"It's hard for me to pinpoint exactly when my friend became my BEST friend, because I can't think of a moment she hasn't been around. We've lived in the same neighborhood since before we could talk. We were together so often that people thought we were sisters, even though we aren't even the same ethnicity. We have this silly thing we say that sounds really try-hard, but it's sort of true. We describe each other as "the only one who has all my memories," because she's such a defining part of my life I can't think of an experience she hasn't been a part of. I love her dearly."
Story 5. "Depend on"
My sis is totes my best friend. It's sort of weird to say now because we absolutely did not get along when we were little. We're only a year apart but we had totally different personalities. She was super into looks and stuff, and I was this athletic but awkward bookworm. Eventually though, as we've grown up, it's crazy how all of our differences ironed out and we turned into basically the same person. I still love books and new knowledge, but my sister totally does too. She really blossomed when she went to college, and she's a total nerd. I also got way more girly, and had this period where I went a little fashion crazy. I think because we were so close in age we actually were subconsciously looking for ways to be different, but once we left home we stressed less and became more ourselves. Which is basically exactly the same! No matter what though, even when we weren't besties, I know she's always been someone I can depend on.
🌹12 Lovely cartoon pictures from Avatoon's users
Pic 1 From avatoon_bln on Instagram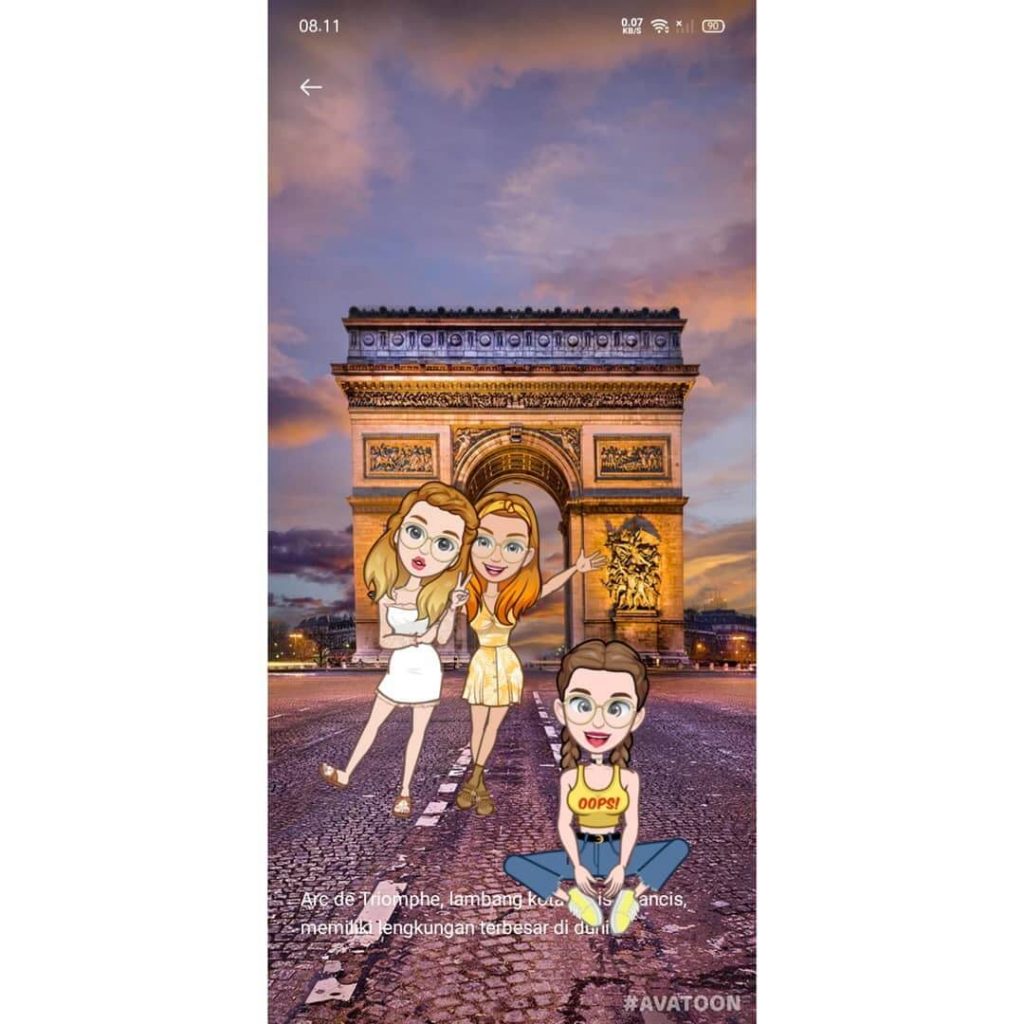 Pic 7 From sticker_web on Instagram
Pic 8 From yliess_kmv on Instagram
Pic 10 From bor_an1 on Instagram
These days, we are living in stressful times. But one thing that always helps get you through is your deep and lasting friendships. While family is important, it can be very different. Family is ideally loving and nurturing. But not every family is created equal.
There is a concept going around today about your "Chosen Family." This highlights the difference between friends and family. You can't chose your family, but you can choose your friends. Family is important, but for a lot of people, their family was not the best. But their friends have become their new chosen family, that provides the love and support they need. So, in honor friendship, and the love it brings, we've compiled some user stories of friendship. Some happy, some sad. Some about the start of friendships, some about old friendships. But all of them display the power of friendship and love.
Hope you can have your "Best Chosen Family". 🌻