As a novel form of expressing oneself, full-body cartoon avatars have recently become very popular on social media. Compared with real selfies, cartoon avatars not only protect people's privacy but also show their own characteristics.
This article will introduce some basics of full-body cartoon avatars, a detailed guide on making full-body cartoon avatars, and some wonderful fan works that our users created by Avatoon.
What are full body avatar makers?
To get into full-body avatar, we first need to know some basic functions of avatar maker. Avatar maker, such as Avatoon and Bitmoji, is a way to easily obtain your own cartoon avatar.
In the past, people might need an artist to draw their avatars. However, with the development of face recognition technology, avatar maker apps are available now to help people create cartoon avatars quickly. People can use their own cartoon avatars to create unique photos and stickers and to share them with friends. It's a convenient way to make more fun of expressing yourself on social media platforms.
However, a full-body avatar may be a better option for users who want to create a more complete cartoon character. More than facial features, self-style is what people want to express through cartoon avatars on social media. Full-body avatars can help people express their personality through accessories, outfits, and some unique poses.
How to make full body avatars in Avatoon?
People can make their own full body cartoon avatars through some related cartoon avatar apps and online websites.
Here we will explain in detail how to make a full body avatar with Avatoon. If you want to know more about full body avatar maker apps, you can read 5 Best Full Body Avatar Maker Apps for Android and iOS in 2021.
The basics of Avatoon
Avatoon is a cartoon full body avatar maker. It has 500+ cartoon stickers & emojis, poses, clothing, and fantastic photo templates. Users can create personal full-body cartoon characters and dress up their cartoon avatars in different styles to make them what users want them to be.
Download Avatoon on App Store and Google Play to start make your full-body avatars!
Guide to making a full body avatar that looks like you
Step 1: Choose an appropriate picture
To quickly create a full-body cartoon avatar, we need to choose a photo with a clear face. This step will help Avatoon to recognize your facial features more accurately. Besides, we can also use the function of manual creation to make a more personalized cartoon avatar.
To illustrate the making process more clearly, we used followed image as an example.
Step 2: Adjust facial features and choose similar clothes for your cartoon avatar
After facial recognition, you will get a base avatar. You can adjust various facial features of the avatar, such as skin tone, eye color and hair style, to make it more similar to the original picture.
Slide the right bar on the homepage, find the feature you want to apply
Adjust your face shape, hairstyle, and other facial features by tapping on the face button
Make up your cartoon avatar by tapping on the beauty button
Dress up your character by tapping on the clothes button
Decorate the home of your avatar by tapping on the background button
Pick a fun pose to your avatar by tapping on the pose button
Step 3: Edit your personal full body avatar photo
After create your avatar, you may want to make some full-body avatar photos to share on social media. In Avatoon, we have the function of 'Photobooth' to help users complete their creative photos.
Tap on the second icon at the bottom of the screen to enter into Photobooth
Click Create my photo to edit your avatar photo
Click Background and Avatoon at the bottom of the screen to add your avatar with appropriate pose and change your background of photo
Click Save to Gallery at the bottom of the screen
Click other buttons to share your cartoon avatar photo on social platforms
Now, you can share your full-body avatar with friends! If you want to make a full body avatar online, you can also check the website of making avatar online.
Some fantastic fan works that may inspire you
As an avatar maker app, our greatest privilege is to meet many excellent users. Here we would like to share some of their works. Maybe these photos can inspire you to make your first full-body avatar.
The full body avatar examples are shown below.
2. juliethcor92
4. sweetchocolatemami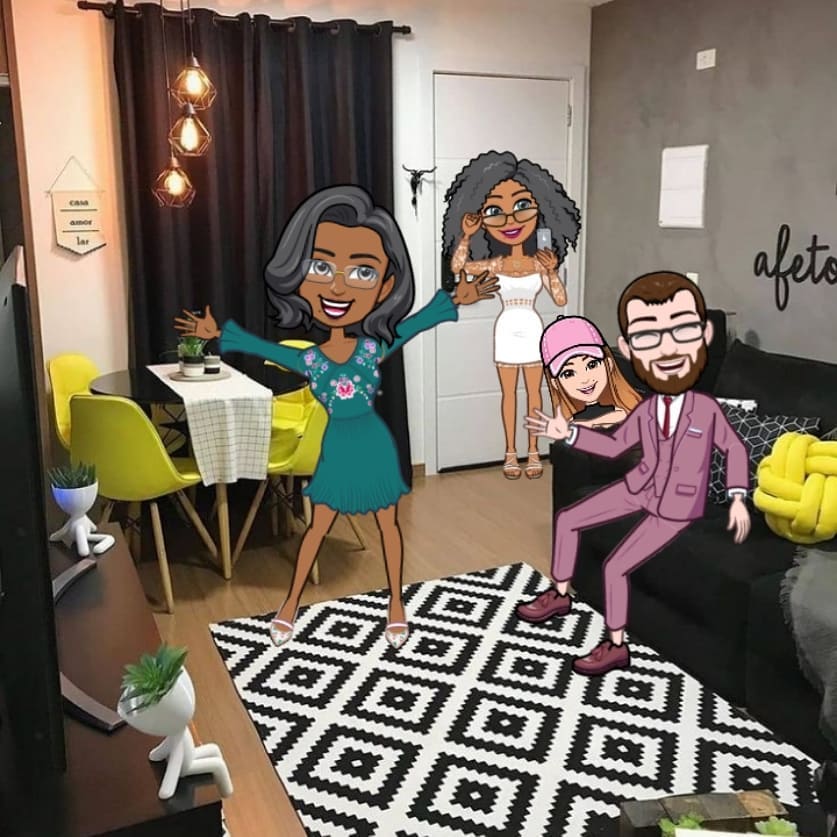 These are all the tips to make a full-body avatar.
If you want to explore more features of the product, you can read the article of making avatars to get more interesting ways to play Avatoon.
If you want to see more fan works, you can check "How to create your own avatars and turn yourself into a cartoon". We also choose some great examples.
Start your avatar journey now!